Tortuga: A Pirate's Tale is full of scallywags who can help you get gold and fame. Who are the best new team captains?
You can only send a ship into battle in Tortuga: A Pirate's Tale if you have a captain to lead it. There are ten captains in the Caribbean, in addition to the main character, who have what it takes to steal the Spanish Treasure Fleet. Each person has a different set of skills and likes and dislikes. Based on what you do, you'll be able to tell who will be the best fit for your team.
We've hired all ten of the playable captains to find out which ones are the most bloodthirsty. Keep in mind that you can only have five friends, so use this list to put together the best group.
Jaap Steenhuis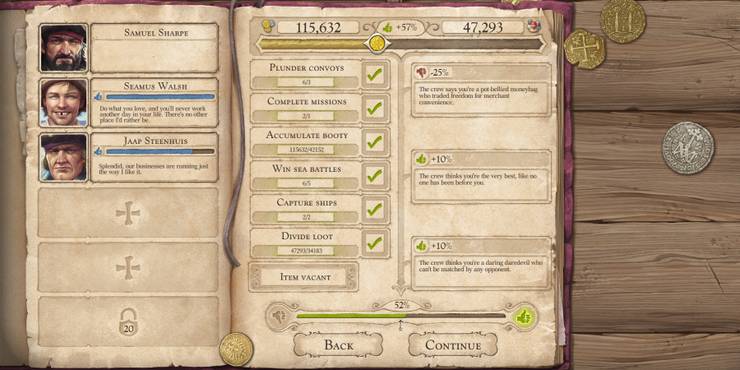 You can hire Jaap Steenhuis, a shady Dutch merchant, in the Florida Keys if you have at least 50,000 ducats in cash on hand. His specialty is getting the best prices from merchants, but because the game's market is always changing, this isn't as impressive as it sounds. Also, your crew doesn't like it when you make too much money from buying and selling. They'd rather loot and plunder!
If you are near southern Florida early in the game and don't have a captain yet, you might still want to get Steenhuis to join your ship. He starts with a Fluyt, which is much bigger than the ships that other captains start with.
Mary Read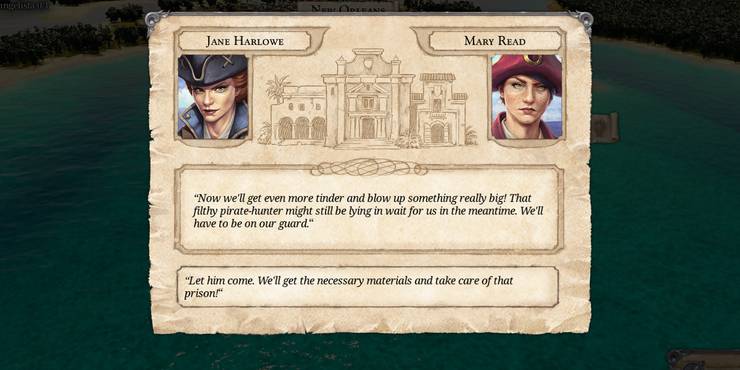 Mary Read is an interesting person in history, so it's a shame that her character in the game doesn't match up. She has the least impressive set of skills in the game, and the fact that she won't work for France and doesn't like fighting other pirates can hurt her. If you do decide to recruit Mary Read, do it later in the game so you can quickly get the Huge Chainshot attack, which can easily stop enemy ships.
You can find Mary Read at the Tavern in Port Royale, but you can't hire her until you have successfully looted at least ten French convoys. Her personal quest is a lot of fun and includes fights with Jonathan Barnet, the pirate hunter who caught her in the real world. The main reason to bring Mary along is so she can take part in this adventure.
Jacob Ford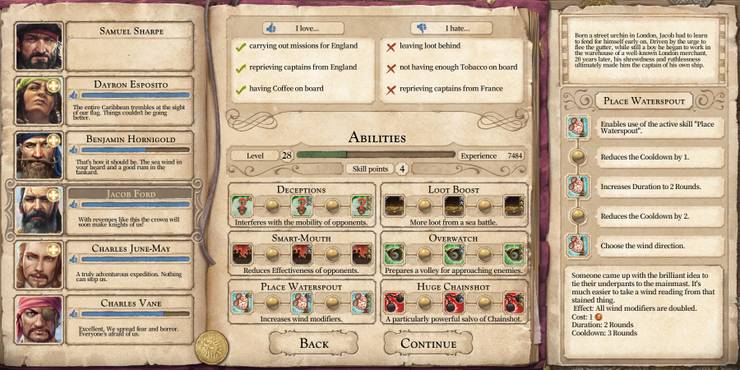 Jacob Ford is the only privateer in the group, and he is completely loyal to England. He is very good at making the enemy less mobile and less effective in battle, but most of the time it's better to skip the fancy tricks and just sink or capture ships as soon as possible to make him less useful.
You can get Ford's help in Guadeloupe, but first you'll have to do some jobs for England. If you are a Baron or higher in his country, he will offer to join you. Even better, he doesn't mind if you steal from English convoys as long as you let the captains live. Keep plenty of cigarettes and coffee on board, and he'll be as happy as a clam.
Clement Mercier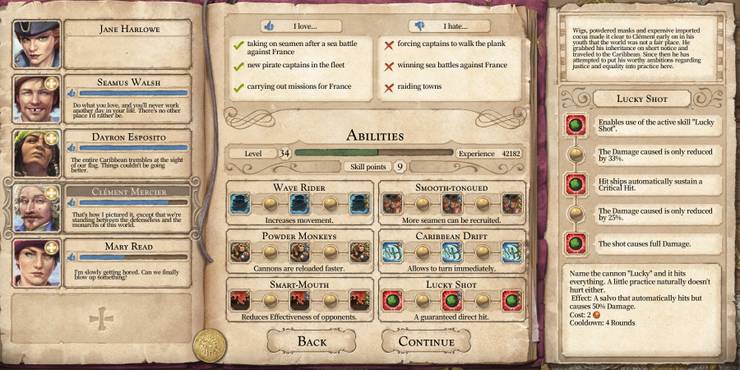 This French nobleman who ran away from his family wants to free the common people, but it's clear that he's not cut out for the life of a pirate. He has a wide range of skills, which makes him more of a generalist than anything else. Still, having Clement on your team is better than not having a captain at all, and once he learns Lucky Shot, he can do some good damage, especially if other captains help him out.
You can get Clement to join you in New Orleans, but he will only do so if you have at least 10,000 ducats worth of goods in your hold. As long as you keep your relationship with France good, he's pretty easy to keep happy.
Benjamin Hornigold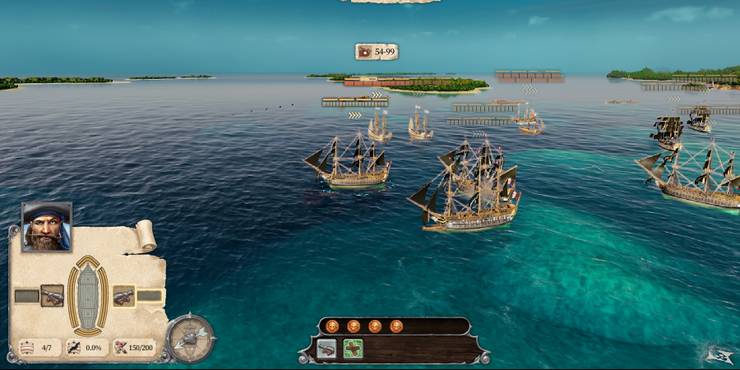 Hornigold is an old pirate who wants to go on one last adventure. He brings a lifetime of knowledge to your team. Just the fact that he can fix nearby ships while they're in combat is a good reason to hire him, and as he levels up, his ship will give your fleet more defense and morale.
You can find Benjamin Hornigold in Trinidad. He won't join you until you're at least a Baron with England, which is strange, but once you are, he'll want to attack English ships. He also doesn't like bread, which makes him angry if you have any in your hands. Old Ben can be the center of your formation if you can deal with his strange requests.
Seamus Walsh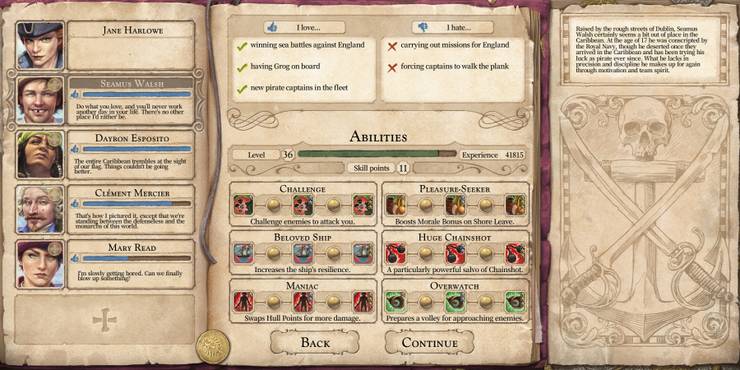 Seamus can always be hired at the start of the game in the Tavern of the city where you start. He doesn't have any requirements to join, and while he's not as good as the best captains, he's a great early-game partner.
Seamus' ships can take hits like no others, and once he's leveled up, his Maniac Ability makes his cannons stronger as his ship takes damage. Put him on the deck of a heavy warship like a Carrack or Queen Anne, fully equipped with Tier-3 hull, frame, and armor, and he will be an unstoppable juggernaut on the waves.
Charles June-May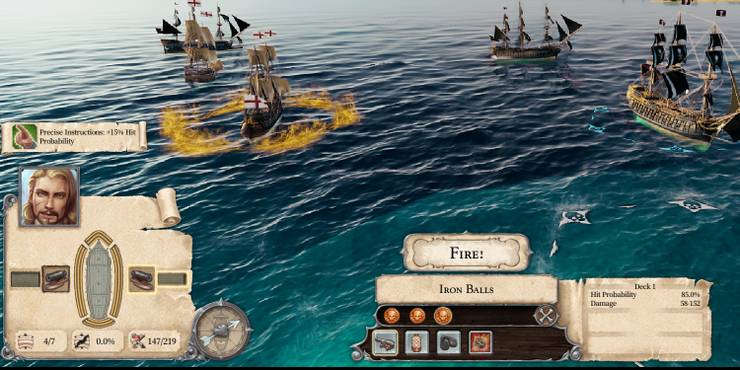 Charles was well-dressed and suave. June-May is a bit of a mystery, but when it comes to helping the fleet, he's the best. June-May makes it almost certain that your cannons will hit their targets, thanks to Marking Ammo and Precise Instructions. Once he's strong enough, he can even take over Hornigold's repair job.
If you are in the Gulf of Mexico, stop at Veracruz to recruit between June and May. He wants you to finish any two missions for Governors, no matter what country you are from. That's a pretty simple requirement, so it's often a good idea to get him early for the Experience boost he gives.
Charles Vane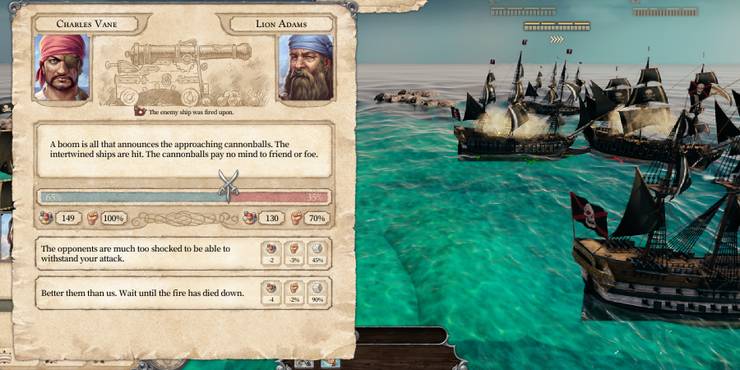 Vane is a tough mercenary who lives in the city of Portobelo. He's one of the harder captains to get on board because you have to make at least two other captains you've captured walk the plank. When you capture a ship, you only have a small chance of taking the captain alive, so getting Vane on your team mostly depends on patience and luck.
Vane is a very good boarder who is well worth the time you put into him. With his Bloodthirsty ability, you can crash into enemy ships to make sure a boarding move works. His later abilities and good gear like sabers and handguns help him and his crew win the fight that follows.
Anne Bonny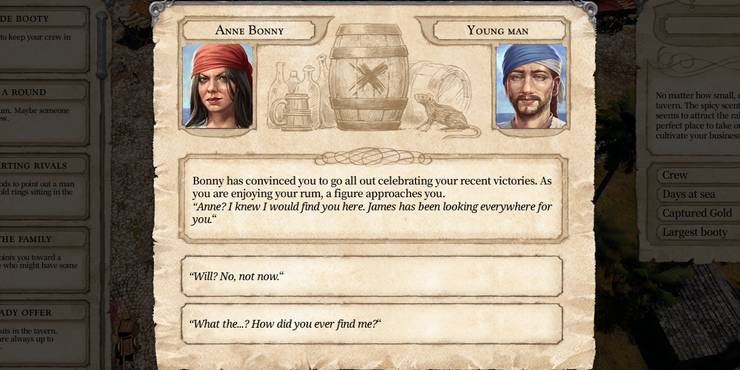 Anne Bonny is easy to get on board, but hard to keep happy. If you don't play in a very specific (and cruel) way, she'll just go back to Port Isabel after a few trips. No matter if you want to keep her on for a long time or just hire her for one mission, she is one of the best captains for combat in the game.
Anne Bonny does more damage when she shoots from close range. If you put her in a ship with two cannon decks with short-range cannons and give her Precise Instructions, she can smash almost any enemy to pieces. Since she's usually in the middle of the enemy fleet and likely to get hit, it's a good idea to give her some armor or use Challenge to draw fire away from her.
Dayron Esposito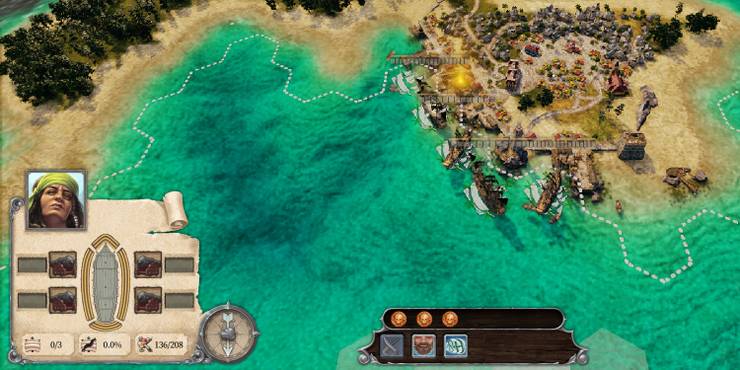 Because he is so good at boarding, the Cuban freedom fighter is almost a must-have. Esposito is at his best when he has a big crew, Grappling Hooks, Sabers, and Handguns, just like Charles Vane.
His starting ability, "Boarding Frenzy," lets him do a lot more than he should. In the late Happy Wheels game, he can even capture a fully upgraded Ship of the Line with little to no preparation. When you start a new campaign, you should immediately sink a few Spanish convoys to reach the first level of Infamy with Spain. Then, head straight to Seville to add Esposito to your crew. When he's around, you can capture the best ships, making your fleet the terror of the seven seas in no time.